The Superbowl should be considered one of America's greatest food holiday's for the vast amount of appetizers and drinks consumed. If you are planning on having a superbowl party, check out these recipies to make your get together the best in your neighborhood! 
SNACKS
1.  Crescent Pepperoni Roll-Ups
No Super Bowl party is complete without pizza! These crescent pepperoni roll-ups are a quick and easy way to bring the classic football dish to the party.
Get the recipe here: http://inspiredreamer.com/crescent-pepperoni-roll-ups/
2. Chocolate Peanut Butter Footballs
These Chocolate Peanut Butter Footballs are sure to be a touchdown at any Super Bowl Party! Just know these are not for throwing… unless, of course, you're tossing them back in your mouth.
Get the recipe and instructions here: http://shewearsmanyhats.com/chocolate-peanut-butter-footballs/
3. Homemade Soft Pretzel Bites
What better way to involve your kids in your Super Bowl party prep than with these homemade soft pretzel bites? Easy and delicious, these pretzel bites (optional: paired with a cheese sauce) are guaranteed to be a big hit!
Get the recipe here: http://www.twopeasandtheirpod.com/homemade-soft-pretzel-bites/
4.  Cheesy Bacon Oven Chips with Chipotle Ranch Dipping Sauce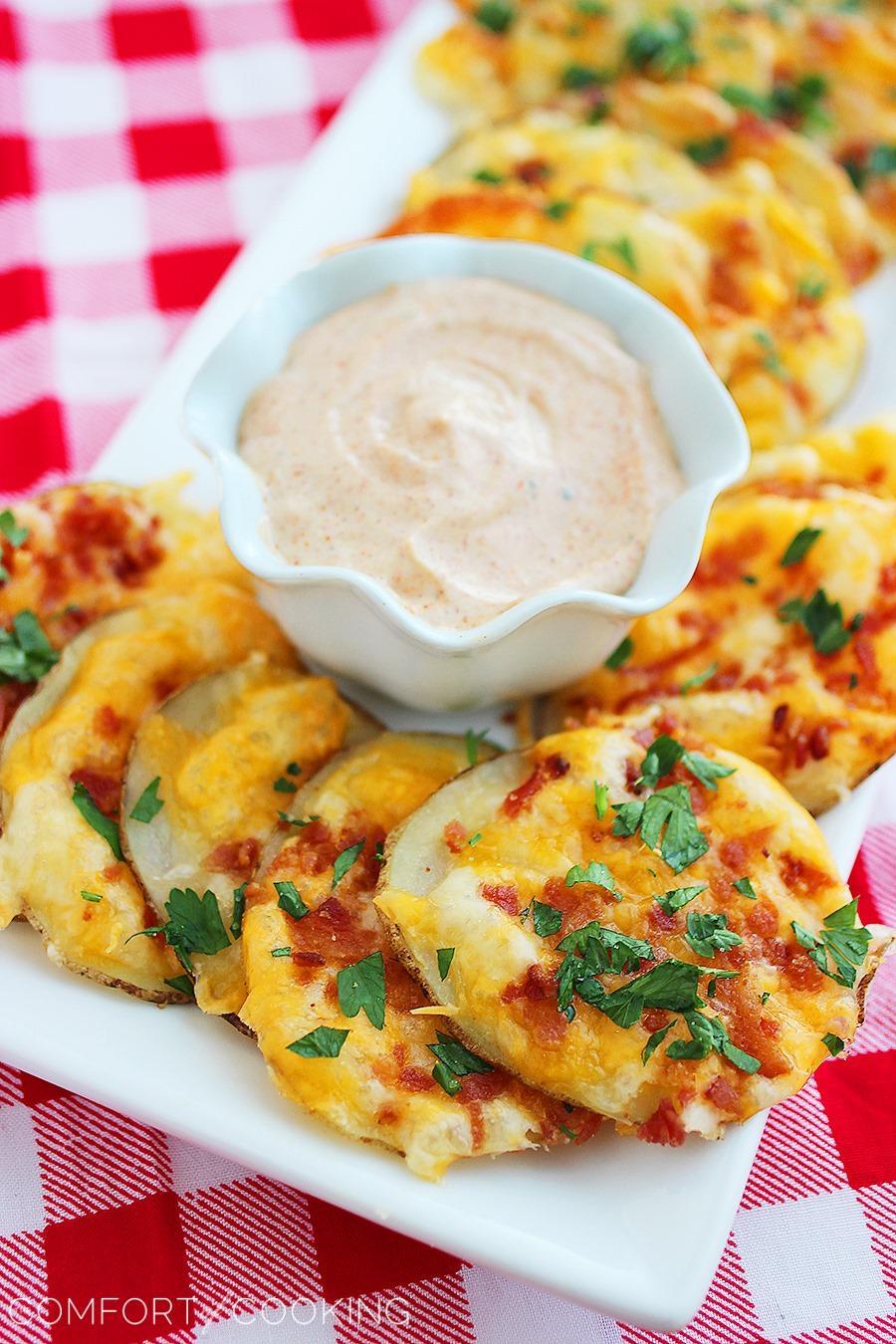 You can never have enough appetizers at a (presumably booze-filled) Super Bowl party. But an appetizer that has cheese AND bacon? Forget about it. Look no further than these delicious cheesy bacon oven chips with chipotle ranch dipping sauce to impress your guests.
Get the recipe here: http://www.thecomfortofcooking.com/2013/09/cheesy-bacon-oven-chips-with-chipotle-ranch-dipping-sauce.html
5. Bacon Cheeseburger Queso
Continuing with traditional appetizers, no party would be complete without   queso. This flip on a classic Tex-Mex dish enhances the flavor more than you could ever imagine! Again, there is BACON AND CHEESE! This dish is easy to make and sure to satisfy everyone's snacking needs.
Get the recipe here: http://centslessdeals.com/2013/10/bacon-cheeseburger-queso-dip.html/
6. Buffalo Chicken Pull-Apart Bread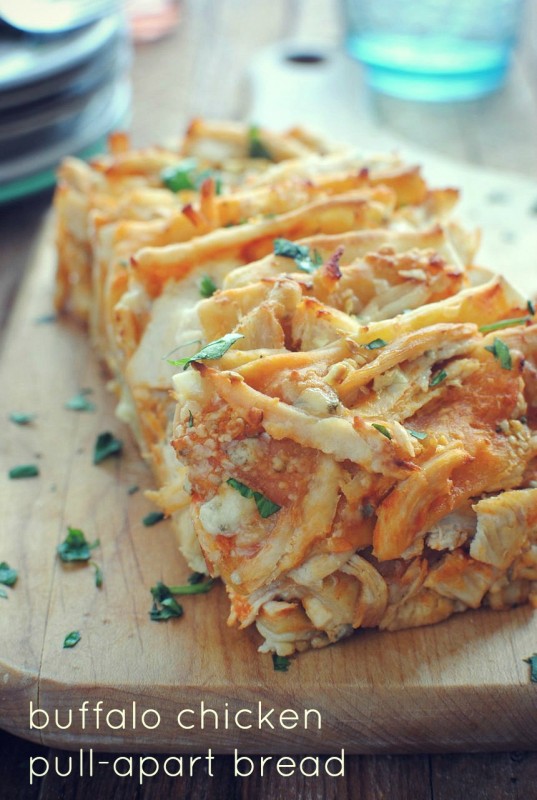 I hope you're sitting down because this Super Bowl is about to get out-of-control delectable! This buffalo chicken pull-apart bread recipe only calls for 5 ingredients, making it a super simple dish for an event like a Super Bowl party. Tip: make more than one batch because it is guaranteed to be a popular appetizer!
Get the recipe here: http://bevcooks.com/2012/10/buffalo-chicken-pull-apart-bread/
DRINKS
1. Beermosa
Want to have a beer but fearful that it may be too early? The beermosa is the perfect solution for you. It may sound a bit unorthodox but think of it as a really, really good Blue Moon!  Quick, easy and sure to please your shandy-lovers!
Via evokedcblog.com
2. Irish Car Bombs
This drink may be partial to New England fans, but if there is one way to get a party started, it's with Irish Car Bombs. Dropping a shot of Bailey's Irish Crème and Jameson Irish Whiskey into a Guinness Stout? Things often get a bit rowdy after a bomb or three, so be sure to pace yourself with this drink.         
Get the recipe here: http://www.savoryreviews.com/2010/03/10/irish-car-bomb/
3. Michelada
Are you trying to spice up your party? This Spicy Michelada will more than do the trick. Mexican beer infused with cayenne pepper, spiced paprika, hot sauce – definitely not a drink for those who do not do spicy.
Get the recipe here: http://www.spoonforkbacon.com/2012/03/spicy-michelada/
4. Peppered Bacon Bloody Mary
Trying to fight the hangover from Saturday night but want to rally for the Super Bowl? I can't think of a better drink to get you in party mode than a Bloody Mary. Typical for daytime drinking, a nice Bloody Mary bar will both impress and serve as a necessity to your guests!
Get the recipe here: http://www.gimmesomeoven.com/peppered-bacon-bloody-mary-recipe/#_a5y_p=2023962
5. Rub and Rye
Imagine everything you want at the Super Bowl in one glass! This unique drink contains rye whiskey, beer and barbeque bitters. Not enough? Rub and Rye also boasts a dry-rub rim and a delicious beef jerky garnish!
Get the recipe here: http://liquor.com/recipes/rub-rye/?utm_source=huffpo&utm_med=lnk&utm_campaign=sprbwldrnks
6. Frosty Mexican Bulldog Margarita
Combine two Super Bowl favorites and you get something so good it should be illegal! Common all across the great state of Texas, the Frosty Mexican Bulldog Margarita is the ideal drink to get the party started.
Get the recipe here: http://blogs.kqed.org/bayareabites/2013/01/25/frosty-mexican-bulldog-margarita/